I'm still editing photos of outfits and the big show, but I wanted to share a full recap (adventures and mis-adventures included!) of my weekend in St. Louis as told through mostly iPhone photos (because this girl didn't charge her camera batteries for the weekend and it died during night one... #whomp).
We arrived and immediately went to our hotel, the
Chase Park Plaza
, where some goodie bags and a king size suite was waiting (for each of us..!). We had a little time to freshen up and get ready for the first night so Jackie and I took outfit photos before we jetted off to
Belle Style's
studio. Heather at Belle Style was such a gracious host and it was so great to learn about all the collections straight from the designer. Next it was off to
Clr-Mnstr
and
Blue Bird Apparel
for some shopping, music and drinks. I picked up a really cute sequin skirt and wishbone ring at Clr-Mnstr and had a near wardrobe disaster when my button popped off my pants in the fitting room. Luckily Jackie found me safety pins or it could have made for an interesting situation the rest of the night. Stay tuned for how I style my Clr-Mnstr skirt - it's going to be perfect through summer too! We ended the night with a St. Louis must at
Pi
for some amazing deep dish pizza.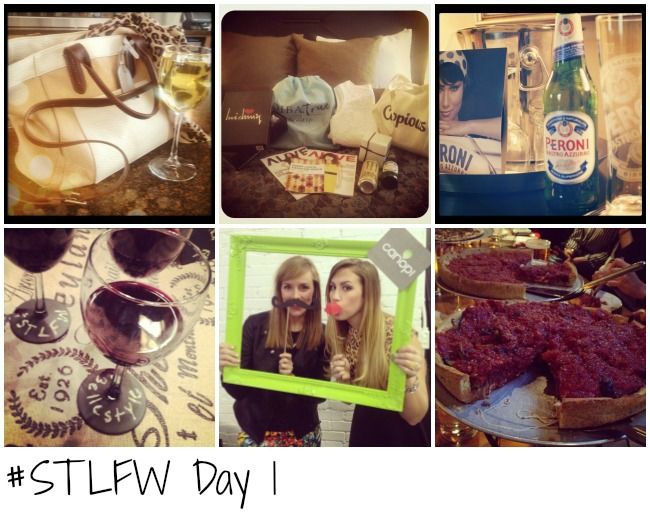 Day two was non-stop! We were escorted around all day by
Best Transportation
and
Canopi
(more about Canopi soon!). Talk about awesome limo/party bus status. We kicked the morning off with a light brunch with
Bonfyre
, a new app focused on privately sharing experiences with the people that matter (more on this later!). Then headed to
Saks Fifth Avenue Plaza Frontenac
for lunch (in a private room!) and some time with Tania, the STL Saks Marketing Director. The food was amazing and the opportunity to chat with the fabulous Tania about blogging and our favorite designers was a definite highlight of my trip. Then we had a little walking tour around the newly remodeled Saks. During our break, Jackie, Rachel and I lounged at the hotel and took some outfit pictures (typical). Then it was off to happy hour and dinner at
Robust Wine Bar
hosted by Canopi and
Hazel2Blue
. We then headed to the GLOW VIP party, show and after party. Pictures from the show to come! I can't wait to show you my favorite designs!
Sunday it was a blizzard ALL DAY. We met Lindsay and Katherine at the
Cheshire Inn
and ate a quick bite at
The Market
(one of their restaurant/cafe) and I have to say, my carrot cake muffin was amazing. We ventured around the Loop and ate toasted raviolis (
seriously
, you have to try these if you go to St. Louis) at
Blueberry Hill
and went to see
Michael Drummond's
trunk show at
Ziezo
. Katherine's flight got cancelled and mine and Jackie's was delayed by almost two hours. Once we finally made it out of STL, it was back to real life in the city...
Disclaimer: All opinions expressed are my own. I did not recieve compensation for this post but did recieve meals, hotel rooms and transportation thanks to our many sponsors.
Loving The Right Shoes? Follow me on Facebook,
Instagram
,
Twitter
and
Bloglovin'
!